August News Letter from Ellen's Quilting Corner
Welcome August!!

It's hard to believe summer is almost over but that means fall is right around the corner. We have been working very hard on planning classes for the fall months and let me tell you we have packed the classes in! Get your calendar out because you wont want to miss any of these great classes.

Gadget Get Together
September 12th starting at 5:30.

On the second Wed. of every month we have Gadget Get Together. This is when we show you a ruler or gadget and how to use it. We give a 15% discount if you buy that ruler or gadget that night. Plus we feature a specific fabric for the night and give a nice 40% discount off of the fabric. We also love show and tell time with everyone who joins us. There are always snacks and drinks and lots and lots of fun. But the sad part is that it is only for 2 hours, that means you only have from 5 till 7 to come and shop with savings and enjoy our demo and everyone's show and tell
September Classes
Tropical Twister
Strip Set piecing and the Creative Grids 15 ruler make this an easy fun project. The figure eight design is 49in x 74in, ideal for tossing across the sofa back or the foot of the bed

.
This is NOT a table runner.
This will be a 4 day class with limited seating available. When signing up please specify morning or evening time.
Class Dates and Times:
Sept. 6th, 13th, 20th and 27th
Morning class: 9 a.m - noon
Evening Class: 6 p.m -9 p.m

Banana Bag

Make a bunch of these small banana-shaped zippered pouches! Perfect for: sewing tools, glasses, pencil case, supplies, or for gifting! Use Jenny's tricks for sewing a zipper in along a curve and swapping the zipper pull color for fun. Grab your favorite fabric layer cakes, sew a little, cut a little, zip a little and done! Made from 10in squares.

Class Date: Sept. 15th
Time: 10 a.m - noon
Class Fee: $15.00




October Classes





Hat Trick



A hat trick is three good things in a row, like three hockey goals, three table runners, or three fat quarters. Learn Jenny's tricks for using strip piecing and a 60 degree ruler to make these three runners oh so easy. Which layout is your favorite?

Class Date: Oct. 20th
Time: 10 a.m - noon
Class Fee: $15.00


Hello Pouches


Enjoy stitching up these sweet little zippered pouches. They feature a quilted base for stability and a see-through vinyl top so you can say "hello" to all your treasured trinkets. Pattern includes instructions to make all four sizes.
Class Date: Oct. 27th
Time: 10 a.m - noon
Class Fee: $15.00



NEW Block of the Month!!!
We will be starting a new Block of the Month Sat. Nov. 3rd.


Muse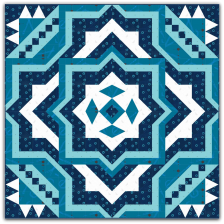 Muse is a 3 month long Block of the Month. It should go nice and easy to get us through the end of the year. From the picture above it can look very different depending on your material.


Happy sewing
Ellen, Dave, Jenny, June and Sandy

Ellen's Quilting Corner
123 Broadway St.
West Burlington, Ia 52655
(319) 752-4288